15 Best Asian Restaurants in Mumbai
Whoever has said, "Food is Life" knew what he meant. For years I have been seeking the meaning of this statement, yet never realized it until recently. Food gives us warmth, pleasure, and happiness, sometimes, it helps us overcome the worst feeling and other times, it's just to fill the hunger. Filling hunger is not a big issue because anyone can do that. But, to impress with food takes a lot of heroism, and here, I'm trying to list down my favourite Asian restaurants in Mumbai.
I have been watching MasterChef US and Australia for a long time now; and I always wondered what the meaning of Gordon Ramsey's statement was: "Food is love, there have to be emotions on the plate." And trust me, when you realize what Gordon Ramsey is saying there is no other feeling in the world better than that, perhaps mother's love, but Mother's Food beats love any day of the week and twice on Sundays.
When a chef/cook prepares food with emotions, it can easily be felt on the tongue which directly hits the correct emotional neurons in the human mind creating a stimulation giving the best mania one can experience. It doesn't matter what emotions are on the plate, if the chef is angry while cooking, then anger has to be felt. Today, although, mostly everyone only cooks for money, there are some restaurants in Mumbai that serves emotions on a plate.
Here is the list of the best Asain restaurants in Mumbai.
Note: These are the restaurants which I consider as personal favourites. Opinions might differ.
China Valley
The food is quite excellent. Although the prices on the menu may seem to be a tad above the line for the dishes that are available at other restaurants too; but, once you have tasted the dish, it surely does justify the price.
Dishes to try: Veg. Wonton Noodle Soup, Veg. Noodles Soup, Chicken Teriyaki, Burnt Garlic Rice, Paneer Chilly and Lobster. Keep in mind that the quantity served is quite a lot. So, do not order everything in one go, take your time and order the next course only if needed. Plus, the service is quite too fast.
Cost for 2: Rs. 1300 for a 2-course meal, and trust me two courses at China Valley are quite heavy.
Oriental Blossom
Oriental Blossom is a perfect place for having a 3 course Pan-Asian meal. The tables are neatly set with a white tablecloth, sparkling stainless steel cutlery and perfectly shaped, black coloured chopsticks. It was mesmerizing. For sure, Oriental Blossom is one of the must-try best Asian restaurants in Mumbai. Although book this restaurant for special occasions, as the prices are a tad too much for every weekend.
Dishes to try: Wontons, Sichuan Noodles, Veggies in Oyster Sauce and Honey Fried Noodles with Vanilla Ice Cream. The quantity is sufficient to serve two.
Cost for 2: Approx. Rs. 3000 for a 3-course meal.
All Stir Fry
This is the best Asian restaurant in Mumbai for me. The first time I was there with my friend on his birthday and since then, it has been a tradition to be at this restaurant for my birthday. For the past three years, this restaurant has been my special place where I dine with the most special people in my life.
The ambience is just amazing, wooden tables with wooden ottoman stool in one section and perfect fine dine sitting on the other side of the restaurant. The food is exquisite; especially their soups and wontons.
Anyone who has had a meal at ALl Stir Fry can quickly identify an authentic touch of Indian chefs. Time after time, the kitchen has gained consistency in delivering his emotions on the plate. This is the reason why All Stir Fry at The Gordon House is the best Asian restaurant in Mumbai (according to me).
Dishes to try: The Wok (It's the best in the town), Chicken Dumplings, Prawns Khao Suey, Thai Curry, Oyster Chili Chicken, Pad Thai Noodles, Smoked Duck Fried Rice and Date Pancakes with Ice Cream.
Cost for 2: Rs. 2500 for a three-course meal. And do have their wok; it's a crime not to.
Pa Pa Ya
As for the food, the portions are quite big; as I mentioned earlier, I was alone, so, I had to order Salmon Sushi and it was the best sushi I have ever had. 8 pieces of delicious rice and raw fish did fill my appetite.
Dishes to try: Salmon Sushi, California Sushi, Sashimi Roll, Crab, and Scallop Ravioli and Pad Thai Noodles. And, do not miss on the Kimchi. Plus, Asians drink a lot, so, do try tequila prior to food, it enhances the palate.
Cost for 2: Rs. 2500 including alcohol.
Zoodles
The food at this food-court eatery is quite simple and adapted to the Indian taste; they serve some specialities along with the regular Chinese menu found at any joint on the roadside. The preparation is hygienic and the taste is considerable; I prefer this place only when there is a cash crunch.
Dishes to try: Chicken Momos, Butter Garlic Noodles and Chicken Chili.
Cost for 2: Rs. 800 for a 2-course meal; mainly consisting of an appetizer and a main course.
Mamagoto
Dishes to try: Kung Pao Chicken, Dumplings and Massaman Curry.
Cost for 2: Rs. 1800 including alcohol.
Royal China
Dishes to try: Lamb, Chicken Fried Rice and Fish are their popularity. Although, the vegetarian food is above expectations.
Cost for 2: The cost of two people sums up to Rs. 3000. The prices may seem over the top, but, they literally do justice when it comes to a dining experience and not just a dinner.
Burma Burma
Dishes to try: Khao Suey, Noodles, Samosa Salad, Dumplings and Soup.
Cost for 2: Rs. 1800. It seemed a bit much to me for veg food; but when food is cooked with emotions, the price really doesn't matter.
House of Mandarin
House of Mandarin was previously known as The Sassy Spoon. It is located at Hill Road, Bandra. The décor is decent, nothing extraordinary, but the feeling and the smell of the delicious food is what lures you through the gates. The place is children friendly, making it perfect for a weekend family dinner where the food cooked is measured with hygienic quality; making it safe for kids.
The staff is courteous ensuring you have the best possible experience. The restaurant does feature a full bar for adults, resulting in a perfect outing with friends post work. The service is really quick, just like Jackie Chan's reflexes. Okay! It was a bad one! But, the restaurant is really good. A must visit place in the favourite hangout spot of Mumbai's youth.
Dishes to try: Prawn Dumplings, Dim Sums, Sushi, Seafood and Cocktails; some of them are House of Mandarin's signature.
Cost for 2: The approximate cost for 2 including alcohol and applicable taxes and charges may sum up to Rs. 2400.
Mainland China
This restaurant doesn't need any introduction. It's Mumbai's favourite Chinese restaurant. Located at several locations across the city: Bandra, Kandivali, Lower Parel, Ghatkopar, Malad, Powai, Andheri and Goregaon.
Mainland China features some of the most exquisite Chinese and Oriental delicacies in Mumbai. An authentic touch of Chinese tradition, served beautifully, in large portions to the Indian audience makes this restaurant a top-notch brasserie in the City of Dreams. Indeed, such Chinese food in Mumbai is a dream. Definitely, it's one of the best Asian restaurants in Mumbai for a lot of people.
Dishes to try: Hakka Noodles, Egg Rolls, Kimchi Salad, Chicken Fried Rice, Kung Pao Chicken and Sushi.
Cost for 2: Rs. 2100. To be honest, it seems cheap to me, the chef literally plates his heart.
POH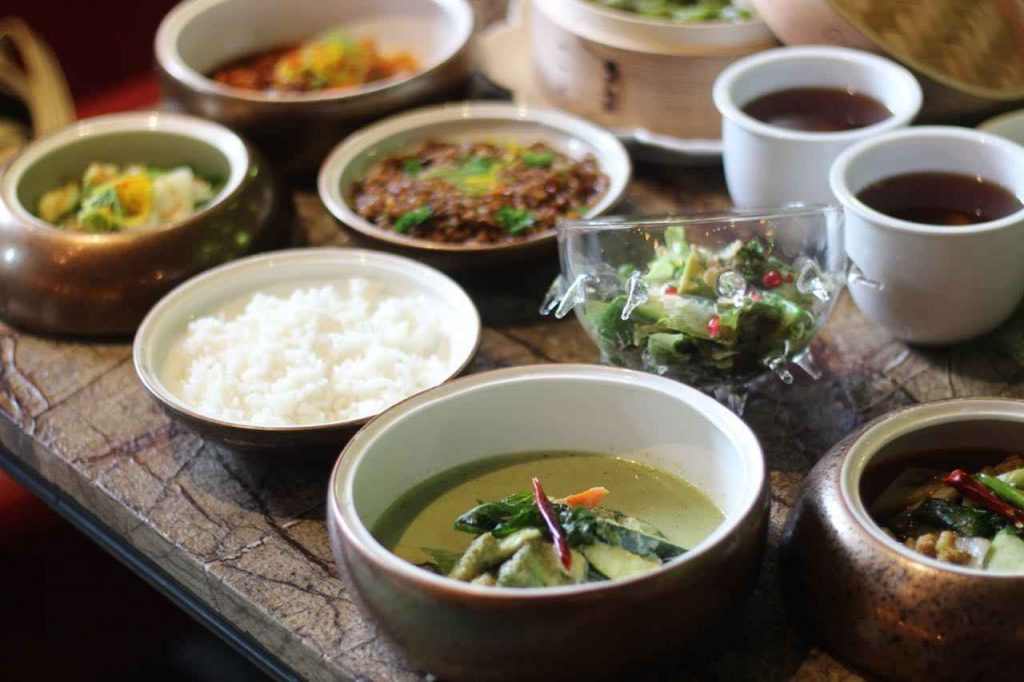 The delicacies served are excellent with one of the best rice servings I have ever had. Other items to try are seafood and classic poultry. Another plus of this restaurant is a fantastic plating. The colourful platter on a rustic black plate sounds dull, but, looks so delicious that it literally waters the mouth.
Dishes to try: Crab, Salmon Sushi, Poultry and Pork.
Cost for 2: Approximately Rs. 1800.
China Bistro
China Bistro is an Oriental restaurant that has everything: a full bar, live screening, buffet, desserts, a la carte and complete flavours of the Oriental cuisine. The service is prompt, the staff is courteous and the décor is aesthetic. The ambience is enhanced by the lingering aroma of soy sauce in the air indulged with the odour of freshly cooked seafood.
Dishes to try: Thai Noodles, Ramen, Tai Pai Chicken, Fish and Coconut Caramel Custard.
Cost for 2: Rs. 1800. The restaurant is a mix of fine and casual dining. It depends upon the day of the week as the restaurant hosts events regularly. The buffet rates for lunch are different for veg and non-veg; plus the day of the week plays an important part too; however, the average is Rs. 700 per person.
Yugo Sushi
This mini joint is located inside the Flea Bazaar Café in Kamala Mills, Lower Parel. Yugo Sushi serves only Japanese cuisine. The menu consisting of exotic and classic sushis like California, Surmai (King Mackerel), Anchovy, Crab and Salmon. They have vegetarian sushi too (yeah, that's a thing).
One of the most popular ingredients used in vegetarian sushi is avocado. I do not understand how or why; but, veg sushi is one of the best selling sushi at one of the best Asian restaurants in Mumbai.
Yugo Sushi is probably the only place on this list which is featured on Zomato but doesn't have any ratings, reviews and must-try. In fact, it doesn't even have a menu uploaded with very limited photos. To be honest, I don't understand why, because the place is always flooded with customers even on the weekdays.
Sushi to try: California Sushi, Sashimi and Salmon Sushi. A single serving of sushi consists of 8 pieces.
Cost for 2: Rs. 1000.
Grills & Wok
Just like China Bistro, Grills and Wok also have three branches in the city. One of them is in South Mumbai and the other two are in the western suburbs – Byculla, Andheri (Oshiwara) and Goregaon. So, if anyone from the central suburbs wishes to have a meal at Grills & Wok then Byculla is the best option or else, there is a compulsion for a few hours of an outing.
The décor is casual with a flair of joyful mood. The restaurant is highly crowded on weekends, so, weekdays are the best to try out this restaurant, at all the locations. The added benefit of this restaurant is that it has a completely different menu for takeaway, giving the foodie a huge benefit to try some awesome delicacies.
Dishes to try: Lamb, Manchow Soup and Fish.
Cost for 2: Rs. 900. Yes, it's quite right when compared to classic Chinese casual dines, but the prices seem cheap after having a wholesome meal.
5 Spice
5 Spice is considered the best Pan-Asian restaurant by Mumbaikars. Not only it has multiple outlets making access to good food super-comfortable, but the kitchen also serves the food with a flair for Indian taste buds that directly hit the right spots in mind, creating a memorable taste experience. I have been at different 5 Spice a few times, and I have noticed that the taste is almost similar.
5 Spice is a delight for the sense of taste; I felt the spice, coolness and emotions all at the same time. An experience that is impossible to forget. It is one of the best Asian restaurants in Mumbai. If you are a foodie, drag along your best friends who are against Chinese food, I'm sure, they will change their opinion.
Locations: Sakinaka, Fort, Malad, Borivali, Mahim, Vile Parle, Pali Hill (Bandra), Oshiwara, Mumbai Central, Matunga and Kandivali. Yes, 11 outlets.
Dishes to try: Kung Pao Potato, Kung Pao Chicken, Crab Soup and Noodles. Do not miss their signature dessert – Death by Chocolate.

Cost for 2: Rs. 1500 is the average cost. Although, it differs from outlet to outlet.
Conclusion
A wise man once said, "Food is not a fling, it's an affair which lasts a lifetime." On this note, start having an affair and fall in love with the one thing which you will surely not regret, food.
So, here I end my list of the best Asian restaurants in Mumbai.
For delicious and simple recipes, do check out our recipes section.